About
Entropiesammlung des Herrn K.
Rührt von einem Käfig voller charmant abnormaler Humanoide (
ecce homo
) und der Schnittmenge aus Draußen und Internetz her.
Titel ist Eingeweihten-Witz.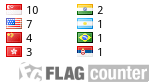 Newer posts are loading.

You are at the newest post.
Click here
to check if anything new just came in.
Could not load more posts
Maybe Soup is currently being updated? I'll try again automatically in a few seconds...
You've reached the end.